Welcome to the Seashine Wiki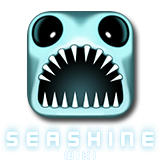 the
Seashine
compendium by the players, for the players.
We are currently maintaining 529 pages (127 articles).
Please feel free to contribute by creating new articles or expanding existing ones.
Participate
Have a page you'd like to add to the Seashine Wiki? Get started by giving your article a name and hitting "Create Page." Edits and improvements to existing pages are also appreciated.
Adding content

If you are unsure of what to do or how to create a page, search for a few articles on the same topic and see what they look like. You can always view the source code in a wiki and learn from what others have done.
An edit doesn't have to be massive; if you feel you don't want to create whole articles, then just fixing spelling errors and broken links is enough.
About
Seashine is a poetic, yet oppressive journey into the deeps.
Play as a fragile creature struggling to maintain an ever fading light in the darkness of the deep ocean caves.
Built to be an experience before all, Seashine mixes exploration, reflection, and survival to take the player into a discovery of the most secret and unatainable place on earth.
In a perpetual search for
light
, the player will have to hunt and find rare light sources to live a few more minutes while avoiding the many dangers of this silent underworld.